BCTGM News | September/October 2012
The September/October 2012 issue of the BCTGM News is now available for download.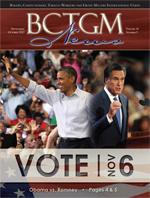 Click here to read it online.
(c) 2017 BCTGM | The Bakery, Confectionery, Tobacco Workers and Grain Millers International Union. All rights reserved. Any use or disclosure for any purpose other than the intent of the original distribution is prohibited.