Buy BCTGM
The BCTGM union label is an historic, enduring symbol of quality, human dignity and pride of union craftmanship.
History
In th 1890's, the newly formed National Tobacco Workers Union came up with a way to expand its membership: they convinced tobacco manufacturers that the Union Label would help them sell their product. The Union toured towns and cities promoting the Union Label, encouraging mine workers, loggers and millers to only buy tobacco which displayed the Union Label on its packaging. The power of the Union Label allowed the Union to organize at a feverish pace, since the tobacco manufacturers were under pressure from the public to provide union-made product. By 1897, 27 companies in 16 cities were using the Label. This strategy allowed the Union to expand across the country and become a powerful force within the labor movement.
Today, the BCTGM Union Label is negotiated into most collective bargaining agreements.  The BCTGM Union Label on product packaging is a source of pride, not only for the individuals making or delivering the product, but also for the BCTGM as a whole. The Union Label demonstrates that the workers who produce the product are skilled workers who are treated fairly and decently by their employers because they belong to a Union.
Look for the Union Label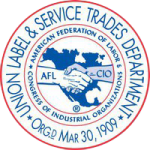 The Union Label and Service Trades Department, AFL-CIO, was founded in 1909 to promote the products and services produced in America by union members — especially those products and services identified by a union label, shop card, store card and service button.
Union labels are symbols of quality and fair play and are found everywhere, from washing machines to baked goods, from shoes to skyscrapers, from clothing to barber shops. They are evidence of quality goods and services produced by proud American workers.
Be sure to look for the BCTGM label when you are shopping for baking, confectionery, tobacco and grain-based goods.  Click here for a sampling of BCTGM-made products.
Go to  www.unionlabel.org for more information on the AFL-CIO's Union Label and Service Trades Department.
(c) 2017 BCTGM | The Bakery, Confectionery, Tobacco Workers and Grain Millers International Union. All rights reserved. Any use or disclosure for any purpose other than the intent of the original distribution is prohibited.